Agency abroad


Keisen Consultores S. A. de C.V.
KEISEN CONSULTING,   (Presentación breve a Abril, 2013)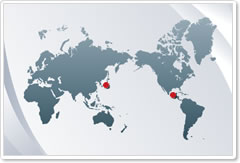 Established in 1990 by Dr. Ricardo Hirata, KEISEN is a specialized consulting office that designs, develops and implements models and strategies for the optimization of company resources, improvement and innovation of processes and systems, as well as the measurement and improvement of effective leadership of individuals, teams and organizational cultures of public and private institutions in Mexico, USA and Central America.
Fields of expertise include:
Strategic Planning through different approaches including Hoshin Kanri©, Search Conference©, Technology Roadmapping©, Business Model Canvass© and others.
Measurement and improvement of individual & organizational effectiveness through SyMLOG©, Articulation Theory and other models.
Quality and Change Management for profitability including TQM / TQC, TPS, TPM, Kaizen & Innovation tools and models.
Process and system improvement and innovation.
Profound analysis of the Voice of the Customer for the translation of their needs into new product development, process improvement and change management.
Kansei Engineering as a model for the translation of the customer´s affective needs into product design parameters (we work with Dr. Mitsuo Nagamachi, Emeritus of Hiroshima University).
KEISEN Consulting has participated in national and International projects sponsored by the Inter-American Development Bank (IADB), World Bank (WB) and Japan International Cooperation Agency (JICA) consolidating as a reference think tank group  in their 6 fields of expertise and with the singularity of attending in 3 languages (Japanese, Spanish and English) and the advantage of understanding Latin American environment and culture.
KEISEN Consulting is also an articulator and liaison office to connect Japanese experts and know-how with Mexican organizations.
RICARDO HIRATA OKAMOTO  (Brief presentation, April 2013)
Ricardo Hirata is a Mexican Nikkei Sansei.
Industrial Engineer graduated from Universidad Iberoamericana (1986), Master in Engineering at Tokyo City University (1990, former Musashi Institute of Technology, Japan) under the mentorship of Dr. Masumasa Imaizumi. Doctor in Management Sciences from National University of Mexico (UNAM) in 2009.
Dr. Hirata graduated from JUSE Basic Course in 1988 (No. 155, Generation 73) and since 1990 after returning to Mexico has been an active promotor of TQC / TQM systems and tools, participating in radio broadcasting programs, conferences, publications and blogs.
Co founded in 1990 the National QCC Contests in Mexico a yearly event where the best improvement teams make a public presentation. Currently he is the President of the organizing entity named Mexican Association for Teamwork (www.amte.org.mx ), member of the technical and evaluation committees. The national event includes QCC, QC Teams, Six Sigma Teams, TEIAN Short Kaizen cases and Coordinators Forums.
Member of the JSQC (since 1990), Senior Member of ASQ (since 1993), Academic Counselor of the Management Studies Department of the Universidad Iberoamericana, as well as member of the Directors Board of 2 schools: Colegio Ciudad de Mexico and Liceo Mexicano Japones.
Dr. Hirata is currently the Founder, CEO and Senior Consultant of KEISEN CONSULTORES a Mexican consulting and training company in the fields of Total Quality Management, all types of Quality and Innovation Teams & Improvement strategies, Kansei Engineering (Emotional / Affective Engineering / Ergonomics), Large Group Interventions for Strategic Planning and Voice of the Customer Analysis, Process optimization and innovation, Measurement and feedback of Effectiveness and Leadership (SYMLOG©) for individuals, teams and organizational cultures.
Author of several publications related to research interest fields, a Quality promotor, a Professional Speaker and articulator of Japanese developments with Mexican organizations.
Contact
Norte 81 No. 163, col. Claveria, del. Azcapotzalco, Mexico, D.F., 02080 www.keisen.com
Tels. (55) 5341-6554 5396-2778 Fax. (55) 5341-3030 e-mail: info@keisen.com